Eton Centris is known for its offices, restaurants, events, transportation hubs, and its Sunday market. It's a place you'll go to when you want to do things that you enjoy, like good food, events, and music. Now, Eton Centris is paving its way to becoming a go-to place for public art enthusiasts in Quezon City.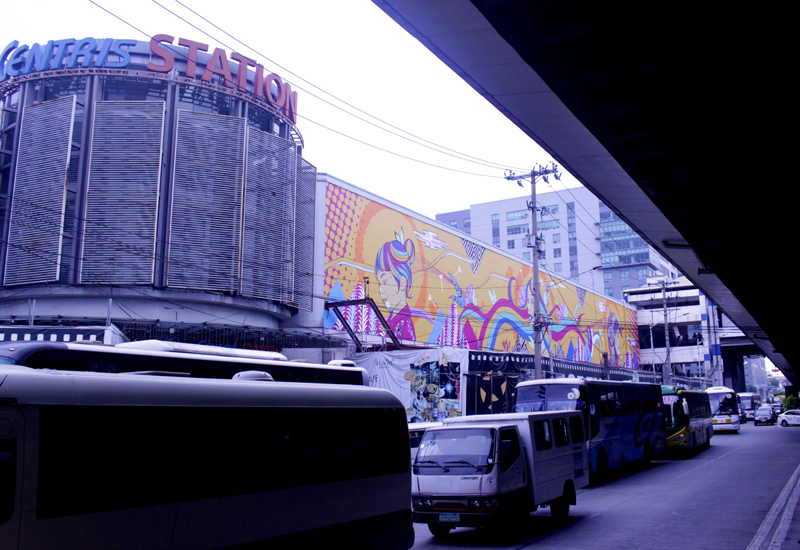 As part of its revitalized branding, Eton Centris commissioned renowned artists Dee Jae Pa'este and Archie Oclos of Kapwa Studios to paint a huge, bright, and evocative mural on the wall of Centris Station mall along EDSA corner Quezon Avenue, Quezon City.
The 678 square-meter mural of Eton Centris is one of the largest murals in the Philippines. Expressing a profound respect for females and highlighting the importance of women empowerment in society, the art features three women in different stages – a child, a teenager, and an adult. The mural's subjects are interspersed in a flowing imagery that depicts an appreciation for music, culture, and human connection, underscoring the DNA of Eton Centris as a place that celebrates things that people love. Another message that the mural tries to communicate centers around the importance of passing down tradition and culture from generation to generation in order to make it flourish and thrive.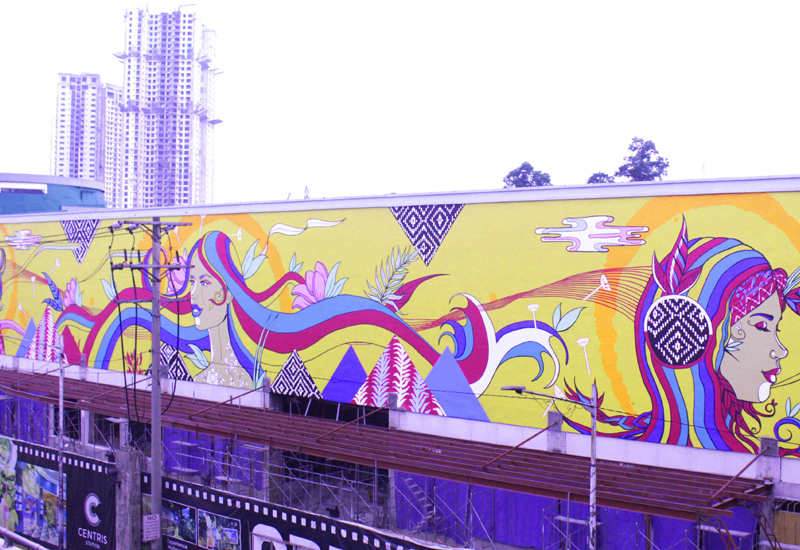 "This beautiful mural is a milestone for Eton Centris because it is the largest of its kind in a lifestyle space. We want it to reflect the atmosphere, energy, and soul of the place. The vibrant colors communicate that Eton Centris is a place that is always full of celebration and life," said Assistant Vice President for Eton Centris, Marjorie G. Abot. "When people see this mural, we want them to feel happy and uplifted, just as what they would experience within Eton Centris," she said.
Abot said that Eton Centris has always been keen on working with and showcasing local talent. The development has continuously set the stage for musicians and bands, and this public art is its way of moving forward with its goal of making Eton Centris known as the soulful side of Quezon City and support local artists in the country.
The works of mural artists' Dee Jae Pa'este and Archie Oclos have been featured in several local and international galleries and exhibitions. Pa'este has artworks featured in establishments in Poblacion, Makati, Bonifacio Global City, New York, and Japan, among others. While Oclos is among the coveted "Forbes 30 under 30" list for his profound works tackling social issues.
"I feel that as an artist, I have the responsibility to share our art and uplift people through it. Something this bright, large, and beautiful can change someone's atmosphere when they see it on their ride or walk home," says Dee Jae Pa'este. "Art has the ability to heal and make people stop for a moment and be present. I hope this mural can do that for people who connect with it and come in contact with it. If we place enough art around the city, imagine all the good energy and inspiration we can spread," he continued. The mural facing EDSA is the first of three parts to be featured in the property. In the pipeline are several murals to be unveiled in the coming months. It has captured the attention of passers-by and MRT commuters daily as it gives people a unique visual experience along EDSA.